Are you going to TechEd 2013? So are we! Be sure to come by our booth
(#2417), try LeanSentry for yourself, and chat with our founder/dev team members.
To make things even better, we are announcing two awesome promotions:
Awesome promotion #1: Help us get the word out about LeanSentry, and walk away with a Microsoft Surface!
Want to help us get the word out about LeanSentry at TechEd? Come by our booth on the first day of the conference, and pick up our snazzy LeanSentry Robot tshirt to wear on the conference floor.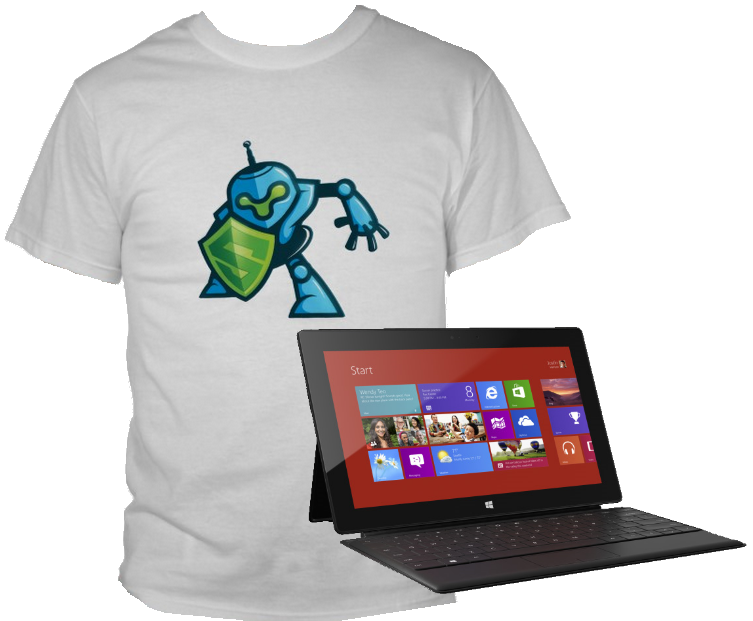 Each day you come by our booth wearing the shirt, we'll enter you into our raffle to win one or more of our demo Microsoft Surface RTs! We'll pick a winner on the last day of the conference and you can walk away with the a brand new Surface right then and there. We don't have a lot of shirts, so your odds to win are pretty good 🙂 Just be sure to reserve your shirt here.
Awesome promotion #2: Come by our booth, and get an exclusive TechEd-only LeanSentry discount!
If you go to TechEd, we know that you are serious about growing and becoming better at running your Microsoft apps. One of the best ways to do that is to use LeanSentry – which is built to make you an expert at troubleshooting and tuning your web apps.
We want to help people discover how much of a difference using LeanSentry can make – so we will be giving away a HUGE one-time only discount at the conference to help you get started with LeanSentry.
We'll announce the discount details in the week before the conference. Quantities will be limited, so make sure to register early.
We are super excited to meet everyone and show off LeanSentry at the conference. Be sure to come by and take advantage of these two promotions, get details here. We'll see you at TechEd!
Best,
The LeanSentry team